I highly prize my relationships with my clients while finding the best home available for them. Please consider me in the search for your next new home as I bring to the table knowledge of the Northern Va area and expertise in real estate.

If you are a client of mine and would like to contribute your thoughts, please contact me here.

---
Roseanne Liska, June 2009
"I just purchased my first home in a very difficult market oversaturated with buyers and a very limited selection of real estate. Mark worked very hard and was readily available to quickly make offers on homes I was interested in. He always kept in mind what was important to me. As a single mother, he was sure to put me in a safe neighborhood with good schools. Mark was more than "just a real estate agent", he was my advocate and he made my first real estate experience very comfortable, fun and personable. I speak very highly of Mark and recommend him to anyone I come across looking for a home.

"


---
Linda Dailey, April 2008
"If you are looking for a realtor who will give you honest advice and help you find just the right home then you need to have Mark as your realtor. Mark is someone who will look out for your best interest and will walk you through the home buying process step by step. I was a first time home buyer and Mark was there to help me understand what I needed to do from the beginning with the credit/employment verifications through the end of signing all the documents for closing. He is someone who has been in this business for quite a while and has many resources to utilize for not only the loan process but home inspections. With all this said if you want a funny, down to earth, understanding realtor who will look out for you as his client, then choose Mark Featherstone."
---
Deb Tewksbury and Family
"When our family was relocated from Boston to Northern Virginia for my husband's job, we were referred to Mark and that was the best thing that ever happened to us. Mark assessed our needs long distance and then arranged his schedule to be completely available to us on our 3-day trip to Virginia to find a house. He spent the entire weekend with us showing us every house possible, giving us tours of the area, and sharing his limitless knowledge of the real estate market, school systems, long distance moves, the differences in selling and buying out of state, he took care of every detail and made us feel completely "at home." When a short time later we were transferred out of state again, he handled every aspect of the sale of the house and our move. Mark even stayed in touch with us to offer his support and expertise after our relocation, and we consider him a good friend."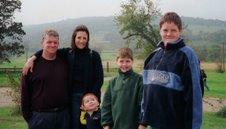 ---
Lisa Mitchell
"Mark is a diligent Real Estate Agent that makes sure the T's are crossed and the I's are dotted with every transaction that he has. Mark's service to his clients is unmatched as he has tremendous market knowledge and is able to guide his clients easily through the process of purchasing and selling a home. Mark represents the top 20% in Real Estate. I would highly recommend Mark Featherstone to your friends and family who are looking for a one of kind buying experience."